Occasionally, people ask me what resources I use to power my website. Keep reading to find out.
---
Resources for your website
I'm often asked about the software and other tools I use on my website and in promotions. Here, I'll share some of them.
Affiliate sales
One great way to monetize your site is with affiliate sales. I won't become an affiliate unless I use the product and am happy with it. I've become an affiliate for several such products. Currently, I have only a few affiliate relationships, but will be adding more in the future. Please note that if you click through any of my affiliate links, I will either receive a small commission or other reward, at no cost to you.
Amazon
Everyone shops at Amazon! From my WindyCity Greek magazine days, I signed up as an Amazon affiliate to earn a little money to help finance the site. Here's how it works. Go to Amazon's Affiliate Central page and sign up. There will be some paper work (tax documents, etc.) to set up your account. You'll have to wait to be approved.
When you write about products that can be purchased on Amazon, you can embed a link with your affiliate code. When a reader clicks through and makes a purchase, you get a small commission at no additional cost to them. You can also insert Amazon ads in your site. There are thinks like Bounties and Special Programs that allow you to maximize your earnings. Of course, this is a simplified explanation. Be sure to read all the fine print and follow the rules, especially where you can post links and about disclosing that you're an Affiliate. If you violate the rules, you'll be dropped. You can see an Amazon ad on the sidebar of my Blog page.
Email Service Provider: Mailchimp
For an email service provider (ESP), I use Mailchimp. I've been using it for the past 4 years. It's easy to set up and use. You can even use it free until you reach 2000 people on your list! Mailchimp can help you grow your email list. You can also create templates for your newsletters and more. When you refer someone to Mailchimp, you earn Monkey Rewards. From the Mailchimp page on Monkey Rewards, here's how it works:
A "referral" is when someone clicks your badge and becomes a paid customer. We'll automatically add MonkeyRewards to your account when someone signs up for a paid plan. You can redeem your MonkeyRewards when you purchase something in Mailchimp.
Click to sign up for Mailchimp and help me earn rewards!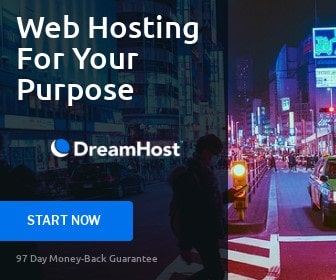 Web hosting: DreamHost
People always ask me who I use for a web host and how that's going. When I started WindyCity Greek magazine, I used a different hosting service. The magazine took off so quickly and to increase the speed, capacity, and security of the site, I switched to DreamHost. My tech person highly recommended them. Now, if you have an issue you can't speak to someone on the phone but they do get back to you pretty quickly and will help you resolve an issue or answer any questions. This site runs on DreamHost. Here's a link to sign up. I do earn a commission at no additional cost to you.
More resources
I'll share more resources soon. When you click through the links, remember, I get a small commission or reward when you purchase something or sign up. Be sure to follow all the instructions and follow the rules. If you violate the rules, they will drop you.
NOTE: PMEA Communications, LLC and Maria A. Karamitsos are not responsible for your affiliate accounts or what you do with them, nor for any actions caused if you sign up as an affiliate through the links and you violate the rules. We are also not responsible for any affiliate commissions you may or may not receive. Read all the rules of each affiliate carefully and be sure to follow the rules.
---