---
PhilHellene Author Marjory McGinn
If you've followed me over the years, you know I've reviewed all of Marjory McGinn's books. We became acquainted back in 2013 through social media, and then she sent me a copy of her first book, Things Can Only Get Feta. Marjory's love for Greece drew me. She's not Greek, but she's a true friend of Greece, hence the term, "PhilHellene".
Meet Marjory McGinn
Born in Scotland and raised in Australia, Marjory has always loved to travel – and write. She channeled that passion into a career as a journalist, beginning in Sydney and then in the UK. She's been published in The Times, The Daily Mail, Scotland's Herald, Sydney Morning Herald, and more.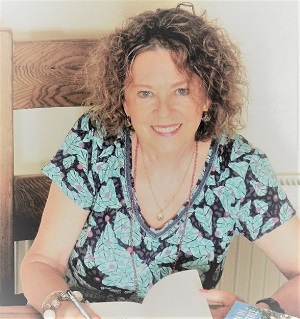 Travel memoirs
She first visited Greece in the 1970s, and as Greece does, it cast a spell. Marjory always dreamed of returning. In 2010, she got her chance.
A "particularly chilly winter in Scotland" and a consolidation in the newspaper industry provided the opportunity. In our first interview, back in 2014, she told me that with Greece in the midst of an economic crisis, the timing did seem poor.
"It did not dent our enthusiasm one bit, even though everyone we knew thought we really were mad. But if Greeks could live with a crisis, so could we!"
Along with her husband, journalist/photographer Jim Bruce (also a book editor and formatter), and their sidekick, a Jack Russell Terrier named Wallace, they rented a house in Megali Mantineia in Messinia. There, locals affectionately renamed them Margarita, Dimitri, and Vassili, respectively. Things Can Only Get Feta (2013), told of their time in the area, including language foibles, cultural faux pas, befriending the locals, attending area celebrations, and more.
Two more years, two new villages, and many more escapades followed, yielding two more travel memoirs, Homer's Where the Heart Is (2015), and A Scorpion in the Lemon Tree (2016). Wallace – who's since left for Doggie Heaven – is responsible for many madcap adventures that will leave you in stitches. In fact, you'll fall in love with him too.
Switching genre
Back in the UK, Marjory still dreamed of Greece and all their exploits. With three travel memoirs under her belt, she pondered her next move. While in Greece, she learned about the little-known Battle of Kalamata, often called "Greece's Dunkirk". The story fascinated her. She hadn't written fiction before but set out to write a contemporary novel with historic elements, tracing this history though her characters. A Saint for the Summer (2018) is a captivating tale told through well-crafted characters that feel like friends. It's one of those stories you don't want to end.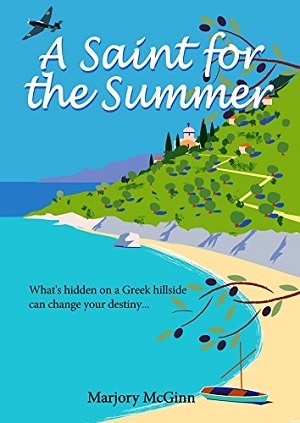 After releasing Saint, Marjory spend the better part of a year researching her father's war record in the Royal Air Force (RAF) Regiments (land-based), during WWII. Her father never spoke of it. She ultimately learned he was stationed in Athens, part of the Allied effort supporting the Greek government during the Civil War.
"It was a strange case of fact following fiction, because of the war story woven into Saint."
Writing How Greek is Your Love
Marjory sat down to write but didn't plan to write a sequel to Saint.
"I was still quite attached to the characters. It wasn't so much a case of me wanting to revisit them, more a case of them hustling away in the back of my mind (as characters do!), wanting more adventures in Greece, like attention-seeking kids, or Jack Russell Terriers, perhaps, which is something I know a lot about. Son I gave in in the end," she shared.
How Greek is Your Love, which took nine months to write, also includes a historical thread.
"We lived in Greece through some of the early – and worst – years of the crisis when one particular violent right-wing group rose to prominence. It became a terrifying side effect of the crisis and it was a strong force in Southern Greece, where we lived," she explained. "Many supporters of this party came from lower down in the Mani peninsula and a lot of what I write about is based on stories people shared about harassment of migrants and expats and the general feeling of mistrust in foreigners for a time. This political aspect provided a lot of tension for the narrative of the book as it did in reality."
There's a dog in this story, too. Zeffy (short for Zefiros) has some "naughty genes", as Marjory says, but he's no Wallace.
"He literally crashed into the narrative at the beginning. He offers a light, and humorous, I hope, distraction too, from the more dramatic issues. And in many ways, Bronte and Zeffy are both outsiders – strangers in paradise."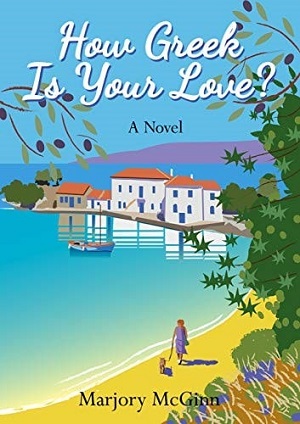 About How Greek is Your Love
Ex-Pat Bronte McKnight has settled into Greek village life, writing freelance about the Greek crisis and forging a new relationship with her once-estranged father, Angus. She's even learning to speak Greek. And of course, she's fallen in love with the charming doctor and neighbor Leonidas. While he's away at his clinic in Kalamata, Bronte remains in the village. One day in the square, she is harassed by a young thug who clearly doesn't care for foreigners. Later she'll discover the political motivations of his sinister acts. A scruffy, stray dog comes to her aid. She can't let him go, so she nurses him back to health. He becomes her companion and watches over her. Then Leonidas is spotted in Kalamata with his former fiancée. She begins to question her decision to make a life in Greece.
In the meantime, she lands an assignment to interview a British author and former actress who lives part-time in Greece. The mysterious woman leads her on an adventure she won't soon forget.
When Bronte is threatened once again by the same stranger in the village, she becomes fearful about the social tensions bubbling from the crisis, she must reassess her choices and make some decisions about her future. Is Greece the right place for her? Is there a future with Leonidas?
Review of How Greek is Your Love
How Greek is Your Love is a delightful trip to the Mani region, with contemporary history woven in. Marjory McGinn's love for Greece shines through here as well. How wonderful to reunite with these characters! Again, I don't want to leave them. Marjory is equally proficient in non-fiction and fiction. Her memorable stories include genuine, lovable characters. I'm sad to say goodbye to them, again. Marjory is tossing around a third book in this series. Let's try to convince her.
---
How Greek is Your Love is available at Amazon and Barnes & Noble.
---
---
How Greek is Your Love
By: Marjory McGinn
Published by: Pelagos Press
ASIN: B085P39WB9
ISBN-10: 1999995732
ISBN-13: 978-1999995737
---
Maria A. Karamitsos is an Amazon affiliate. By clicking through the links, when you make a purchase, she will receive a small commission at no additional cost to you. It helps to support her writerly endeavors. Thank you!
---
Read my reviews of Marjory McGinn's other books:
Things Can Only Get Feta (originally published in The Greek Star in 2014; republished in WindyCity Greek Summer Reading Guide 2015)
Homer's Where the Heart Is (In the WindyCity Greek archives)
A Scorpion in the Lemon Tree (In the WindyCity Greek archives)
A Saint for the Summer (In WindyCity Greek's Summer Reading Guide 2018)
---
Read more:
My Greek Books: What I'm Reading
---
Get all the latest news delivered to your inbox. 
Sign up for my monthly newsletter HERE
---