My Greek Books
Welcome back to My Greek Books! After the untimely passing of my father early last month, I took some time to just be. Surprisingly, I didn't read as much as I normally do; I didn't write much either. A desperately needed break was in order. We huddled with our local family and those across the miles. Now, it's a new day, a new week, and it's time to get back to work.
If you've followed me over the years, you know I almost exclusively read books by Greek authors, books set in Greece, or those with Greek subject matter. And for more than 15 years, I've reviewed many of them. I love being virtually transported to Greece. Additionally, I adore exploring Greek themes and seeing our amazing Greece through the eyes of PhilHellene writers. It's fun to discover new authors and then introduce them to you.
People always ask what I'm reading or for book recommendations. During the last month, I selected three quick light reads, two from authors I hadn't read before.
So, without further ado, here's what I've been reading.
Bucket to Greece Volume 1: A Comical Living Abroad Adventure by V.D. Bucket
Independently published, June 2019
This is the first of a series of six books about a Brit couple's move to Greece. Over the years, I've enjoyed reading several foreigners' tales of picking up stakes and relocating to Greece. Each has its own distinct voice and even humor. This book is a lighthearted look at one couple's adventure, exploring the country, buying and remodeling a home, and getting settled.
The author states that he needed a pseudonym "to avoid embarrassing his wife after deciding to pen a book about moving to Greece". He adopts the name, V. D. Bucket, a moniker hoisted on him as a baby abandoned in a bucket. That sounds like an interesting story in itself!
Anyway, Victor, and his wife, whom he re-named his wife Marigold, move to a tiny Greek village. The author withholds the names of places and change the names of people they encounter to protect everyone's privacy – and of course, not embarrass the real-life wife. Wink, wink.
Bucket take us on an adventure, from their visit to Greece, deciding to move, to how they found their home, even traveling around in a hearse. You'll have to read it to find out why. We follow the couple's zany tale of their move, their mishaps, and adapting to Greek village life – a life so incredibly different than their life in Britain. Check out this amusing read. You may find yourself pondering your own move to Greece!
Are you on my email list? Get my monthly newsletter and stay up to date on all my latest news, learn about recent blog posts, and more. Click HERE to join. It's FREE.
Statue of Limitations (A Goddess of Greene Street Mystery) by Kate Collins
Kensington, January 2020
Statue of Limitations is the first book in a brand-new series by New York Times Best-Selling Author Kate Collins. She's also written children's books and romance novels. Beginning in 2016, The Hallmark Channel began airing film adaptations of her Flower Shop Mysteries series. The author is married to a Greek man. It's interesting to see how she captures the dynamics in the Greek-American family. In this story, the mother is Greek-American, and the father, well, is not.
Athena Spencer, a newly divorced mom, returns with her son to her Michigan hometown and extended Greek family. They rally around to support her as she tries to rebuild her life. She rejoins the family business, a local garden center.
One night while working late, someone breaks in. The handsome stranger claims to be the rightful owner of a statue Athena's grandfather recently acquired from a powerful local family. Said family is planning to level "Little Greece," the city's Greektown neighborhood where her grandparents own a restaurant. Then the patriarch of that powerful family dies in suspicious circumstances. The former investigative reporter finds herself embroiled in the fight to save the neighborhood and her grandparents' restaurant – and protect her family from murder. She teams up with the handsome stranger to get to the truth. When she discovers that the death is related to the redevelopment of Little Greece, she finds herself in danger. Can she channel her namesake goddess to save the day?
A Big Fat Greek Murder (A Goddess of Greene St. Mystery Book 2) is due December 2, 2020. You can pre-order here.
Maria A. Karamitsos is an Amazon affiliate. By clicking through the links, when you make a purchase, she will receive a small commission at no additional cost to you. It helps to support her writerly endeavors Thank you!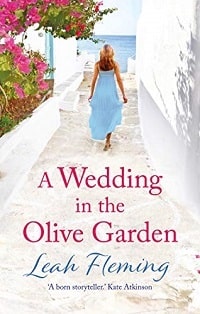 A Wedding in the Olive Garden by Leah Fleming
Head of Zeus, May 2020
Back in May, I read Leah Fleming's The Girl Under the Olive Tree, set in Crete during World War II. This historical romance transported me to the magical island that I've had the pleasure to visit three times. I looked forward to her new book and wasn't disappointed.
Event Planner Sara Loveday flees her native England after a personal crisis and finds herself vacationing alone on the fictional Greek island of Santaniki. The island casts a spell. Feeling there's nothing to go home to, she decides to start a new life on the island, and a new business planning weddings.
She befriends many ex-pats, who help her along the way. Yet, she can't let them in on her secrets. At one of her first events, someone from her past unexpectedly shows up as a guest, threatening to destroy her life once again. What will happen? You'll have to read it to find out. Gotta love being transported to a tiny Greek isle, and of course the characters' jaunts to places I have visited in Crete brought a smile to my face, too.
My Greek Books – July Edition
Well, that's it for this month's edition of My Greek Books! I'm already mid-way through the long-awaited Book 2 in a series for which I reviewed the first in 2016. And waiting on deck is another book set on a Greek island. Can't wait!
---
Check out some of my book reviews in the archives of WindyCity Greek magazine. Click HERE.
---
Read more 'My Greek Books'
Reads My Greek Books – April Reads
My Greek Books – What I'm Reading
---
Check out my guest post on Stacy Juba's Shortcuts for Writers blog: It's All Greek To Me: Why Authors Need Cultural Consultants
---