Author Spotlight: Jackie Watson
This month, I put Jackie Watson in the Author Spotlight. Keep reading to learn more about her and her work.
Meet Jackie Watson
Born and raised in Newcastle-upon-Tyne in northeast England where she's lived most of her life, Jackie is the author of Apokeri Bay (Hawthorn Wren), her debut novel, which is part of of a trilogy set on the island of Lefkada.
I'm an Amazon affiliate. As an affiliate, I earn money from qualifying purchases. By clicking through the links, when you make a purchase, I receive a small commission at no additional cost to you. It helps to support my writerly endeavors Thank you!
Q&A with Jackie Watson
…on her roots
You're a Geordie.
Because of where I'm from, I'm what's lovingly referred to as Geordie and very proud to be one. I've always been one to follow my own path.
You love adventure.
I stayed on at school until I was 18 and then did a few years admin work before getting itchy feet. I bought a one-way ticket to Australia and on a year working visa experienced this fascinating country, followed by two months jumping on and off the AMTRAK around the USA.
… on work
You studied marketing.
After a few more (it has to be said) boring admin jobs I took the plunge and became a full-time student and graduated with a BA Hons in Marketing Management and then went on to complete a Postgraduate Diploma in Marketing. For over 20 years I was a marketing professional working in a variety of industries. However, I still squeezed in plenty of adventures including a 10-month stint travelling in New Zealand, Australia, and Thailand and a three-month motorhome trip around the gorgeous UK and Ireland coastline.
You have a "day" job.
I'm one of those people who'd rather try something than have regrets. I quit as a full-time marketing manager in Dec 2020 to focus on writing and then in 2022 I returned to the world of work as a part-time administrator for an extremely talented company of landscape architects. When I'm not at my "day" job I'm absorbed in the world of writing!
… on writing
When did you start writing?
It seems like I've always scribbled down little bits and pieces of prose. As a kid I created little stories in notebooks, I wrote diaries from various travels, and writing was a key part of my marketing career. However, I didn't seriously start writing contemporary fiction until January 2021.
How did you get into writing?
Through my love of reading. As a kid, I walked up to our local library each week. I loved the whole experience from the sights, sounds, and smells of a place given over entirely to literature; the ability to flick through all those wonderful books and then the joy of being allowed to take three stories home. I have never forgotten those weekly trips and it started an undying love of the written word and inspired me to write my own.
What do you like to write?
For my own enjoyment, I still like to write about my observations or experiences when I'm on holiday. Maybe one day they might make it out into the big wide world. As an author, I enjoy writing engaging contemporary fiction where the characters don't always have an easy time of it. However, I don't write anything too dark or bleak. At the end of the day, I want to put a smile on people's faces (and maybe a tear as well). My aim is to create stories set very much in a place, where the reader is transported somewhere else and for a period in time can drop into somebody else's life and be left wondering, "Would I have done that?"
Have you published anything else?
Over the years I've produced plenty of press releases and articles but nothing in my own name. The novel is the first piece of fictional work I can proudly point to and say, "That's mine; I did that."
What inspires you as an author?
I'm inspired by all those authors who have the wonderful gift of great storytelling. I'm inspired by that amazing, uplifting, and joyous feeling you get after finishing a fantastic book. I love reading—it is pure escapism. When you pick up a book, it provides an opportunity to be anyone, go anywhere, and do anything. You can step into the shoes of a total stranger and experience their life, their emotions, their fears and desires. I have laughed and cried while reading and that's also what inspired me—I want to write stories that move people, that they love and want to read again and again.
… on reading
Who are some of your favorite authors?
One author would have to be J.R.R. Tolkien because Lord of the Rings is my all-time favourite book. It is a towering piece of fiction, a masterclass in world-building, character development, and the ultimate struggle of good versus evil. It is no surprise that I have reread it dozens of times. The next author is Jane Austen with Persuasion being my second favourite novel. Her ability to observe the nuances of behaviour in a tightly structured class society is wonderfully clever and witty. I also enjoy a good series that allows characters to develop over time and my favourite would have to be the 'Alphabet' series by the late Sue Grafton. The private investigator Kinsey Millhone is fantastic, and we follow her through many adventures. She always cracks the case but never quite sorts her own life out.
What types of books do you like to read?
I have an eclectic reading taste that encompasses fantasy, historical fiction, romance, contemporary, crime, thriller, and non-fiction travelogue/memoirs. I want engaging writing, and a great story where I can vividly picture the scenes. And I must have an emotional attachment to the characters. I need to be hooked within the first few pages and if I get to the point where I don't care what happens I will not persevere. Luckily, it is very rare that I don't finish a book.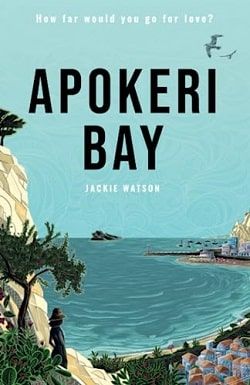 … on Greece
When did you visit Greece for the first time? Why?
I visited Greece for the first time over 30 years ago. Wow, I can't believe it was that far back. I'd just finished school and it was the first holiday without any parents. I'd saved hard from a part-time job and with a friend, we were excited for two weeks of guaranteed sea, sand, and sun. This was way before the internet, the days when you went into a travel agent and picked up holiday brochures. I remember sitting on the sofa and feasting on all the bright and colourful photos of perfect blue skies, gorgeous beaches, and Greek whitewashed buildings. We were both sold, and two ecstatic teenagers set off for Corfu, and that's when my love of Greece began.
What made you choose Lefkada?
I'm blessed to have visited some beautiful parts of Greece—Corfu, Crete, Rhodes and Halkidiki—and have lots of wonderful memories to draw from. The novel had to be set on a beautiful and lush island, with abundant flora. I also wanted it to be set somewhere that wasn't one of the 'big' Greek holiday destinations, so it wouldn't be as straightforward to get to out of season for the main protagonist's family and friends. I did lots of research and discovered Lefkada. It was absolutely perfect and even better, it was on the same island chain as Corfu which I'd visited three times before. It was meant to be.
… on her debut novel
Apokeri Bay is your first book.
It's not only my first book but the first part of the same-titled trilogy.
When did you know there was a story to tell, and you wanted to set it in Greece? What compelled you to write Apokeri Bay?
If you'd asked me a few years ago if I'd ever write a book, the answer would have been an unequivocal no. Not a chance. No way. How could I possibly have enough good ideas to fill a whole novel? But then in August 2020, I started having recurring dreams. For weeks and weeks, they'd always start the same with a young woman trekking down a hillside with two friends. They would arrive parched with thirst at a bike shop. The young woman is there for a few nights, falls in love with the picturesque Greek seaside village and stays, while her friends leave and continue backpacking. Over and over again the same dream came, but then it started to develop with more characters making an appearance. It was as if they were insistently tapping at my subconscious to be set free.
There is no other way to put it—I was driven to write Apokeri Bay. The dream was set on a lush green Greek island, so the novel was always going to be. And once I started writing I couldn't stop. All these ideas kept pouring out of me and onto the page and what initially started as a stand-alone quickly became a trilogy. It's taken many years but eventually, I have a story to tell.
When did it come out?
June 8, 2023.
What's it about?
It's about love, friendship, guilt, and heart-wrenching decisions that packs a punch.
… on the future
What's next for you?
I'm currently putting the final touches to the second part of the trilogy which will be out in Spring 2024. I am also completing a novella about one of the characters from Apokeri Bay which will be available before Christmas. Once those two are ticked off I will turn my attention to the final part of the trilogy. I don't want to turn my back on the world of Apokeri and have ideas about another novella and a prequel. I've also had another dream about two characters and a cozy mystery series, so who knows where that will lead!
Anything else you'd like to share?
Apokeri Bay is available in paperback at Amazon, Barnes and Noble, and Waterstones; and also on Kindle. If there is a particular favourite bookshop you frequent, they should be able to order a copy for you. My paperback is also available for libraries to order so if you have a local branch, you could ask them to stock it. Thank you for taking the time to read a little bit about me and what inspired me to write about a feisty young woman who arrives in a Greek village full of secrets.
Are you on my email list? Get my monthly newsletter and stay up to date on all my latest news, learn about recent blog posts, and more. Click HERE to join. It's FREE.
Author Spotlight: Jackie Watson
Hope you enjoyed meeting Jackie Watson and learning about her debut novel. Learn more on her website. Follower her on Facebook and Twitter.
---
Read more:
Author Spotlight: Zafirios Georgilas
Author Spotlight: Kathryn Gauci
---