Something I wrote a few years back about "Greek California" on the Central Coast. This piece just may make you pack your suitcase!
---
Get your Greek California on in the Central Coast
Recently, in trying to organize some old files, I discovered much writing that I'd never published. Time to share! Watch for them on this blog.
Especially in these current times, we need an escape. This one grabbed me, as it took me right back there. If I close my eyes, I can smell the salty air. Feel the caress of the cool ocean breeze. The stark contrast of California to Chicago. Wander amongst the rolling hills. Revel in the unspoiled beauty.
My husband has family on California's Central Coast, and since weve been married, we've visited often. It's become one of my favorite places. When we gather with our wonderful family, we never want to leave. Our days are filled with love and laughter. And an adventure or two (or three!) awaits.
A family reunion brought us there for my first visit. Newly pregnant and with a toddler in tow, we picnicked at the beach, toured Hearst Castle, and visited with family. Not until our 2nd trip in 2011 did I have the first opportunity to explore. We found Greeks, we found new friends. Each time we return, we make the "rounds". We enjoy all those fabulous friends and places–and find new ones, too.
Sharing my Greek adventures
No matter where I go, it seems that "the Greek stuff" always finds me, leading to delightful escapades, lovely experiences, and delightful memories. Years ago, when I wrote for a local Greek newspaper, I began sharing these stories. In 2014, we published a three-part series called "Finding a Bit of Greece on California's Central Coast" detailing our adventures and highlighting those amazing people and places. If you're interested, I can dig them out and share them here.
Among the pile of unpublished articles, I found this gem. I really love this piece, written in 2014 and recently edited. Sit back, let these words transport you from your every day. Enjoy the images of some of our fave "Greek" spots.
Happy virtual travels!
Can't get to Greece? California's Central Coast Beckons!
Drive through the rolling hills of wine country. They'll transport you from the every day. Still one of California's best-kept secrets, the Central Coast has much to offer. And not just scenery and activities.  If you can't get to Greece, why not sample some "Greek California" on the Central Coast!         
Once a sleepy agricultural area, there's much to see and do. But relaxation is the order of the day–every day. Don't make too many plans–because sometimes the most wonderful things just happen. Hail serendipity! And other times, all you need is to just breathe the fresh air, enjoy the sunshine and gaze onto the hillside. Exit the fast lane. Go with the flow and recharge your batteries.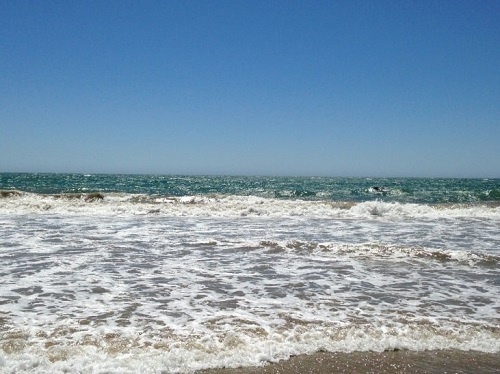 Head to the beach, but not to swim. The water is much too cold, though it is perfect for water sports. Suit up, grab a board, and ride the waves. Not your thing? Unfold a blanket on the sand. The sun may play hide and seek, but no matter. Put on a hat, lather on some sunscreen and sit back. Engage all your senses. Read a book or take a snooze. Soak up some vitamin D. Share a picnic. Refresh in the salty air.
The sound of the waves, the gulls soaring about–both will lull you into another state of mind. Put your toes in the sand for a natural pedicure. Feel the warmth of the earth radiate from the bottom of your feet to the top of your head. After a while, run into the incoming tide. The cool water will invigorate you and reawaken your spirit. Squeal like a little kid. You are alive! A.L.I.V.E. You've found your bliss. Close your eyes and you're in your happy place. Relax and enjoy this time away from the everyday. Not a care in the world, right?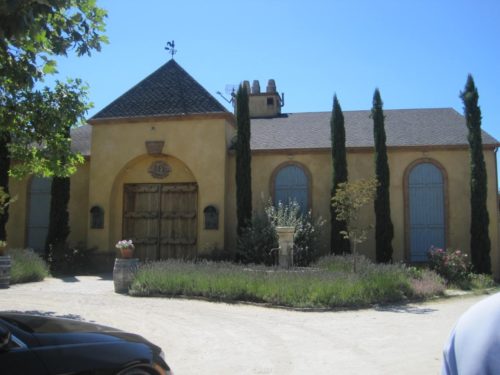 As part of your recharge, visit some local wineries. Grape vines dot the landscape, and tasting rooms are aplenty. Drive through the hills on narrow roads with hairpin turns–if you didn't know better, you might think you were in Greece. Any reminders of the motherland are good for the psyche! Enjoy some incredible wines. Sip slowly. Engage all your senses and experience the wine. When you do, you'll find they are multidimensional. It's a sensual experience. Elevate it from just drinking, to something mystical, transcendent.
Reconnect with your freer self that gets lost in the shuffle of life. It's like a symphony, a poem, cultivating within you. Record this in your memory, to revisit, to draw on when things get hectic.
Home? Is it a place or just a state of mind?
Leave the rat race, slow the pace. Just breathe… life is good… Even better surrounded by loving family. These magic moments, these feelings, are home.
Live well, laugh often, love much.
Other Greek Central Coast Faves
Back in 2011, we stumbled upon Demetria Estate driving down Foxen Canyon Highway in Los Olivos. During our fab afternoon visit (we lingered for hours–remember, no rushing), with the late proprietor John Zahoudanis and his son Alexis, we learned about more Central Coast Greeks. They sent us out for some new Greek California discoveries.
Global Gardens
Greek-American Theo Stephan traded in her hectic life in the Midwest, and her co-ownership in a successful marketing agency, for a farm in Los Olivos, CA. At Global Gardens, boasting 300 Koroneiki olive trees imported from Greece, native olive trees, and an orchard whose bounty has led to incredible vinegars (and so much more), there's tons to explore.
Early on, she sold her wares in a little shop in downtown Los Olivos, where we first encountered her. Around 2013 she moved to Los Alamos, to a larger store that included a cafe. We visited there, and snapped the above picture out front. After learning that of her farm's extended zoning classification, she closed the store/cafe and opened an olive oil and vinegar tasting room and shop right at the farmstand.
We joined her club, and once a quarter when the shipment comes, we do a little happy dance.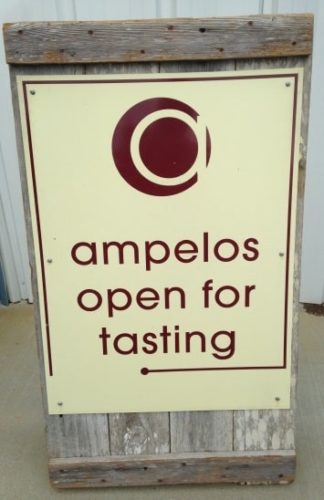 Ampelos Cellars
This Greek-inspired winery boasts a tasting room with a cool, industrial vibe, located at 312 North 9th Street, Lompoc, in an area known as the Wine Ghetto. We thought it odd, too. Apparently it received that moniker since there's not a grape vine in sight–only tasting rooms,
When Peter Work visited his sister and her Greek husband in Greece, he immediately fell under the Mediterranean country's spell. When he met his wife Rebecca, they traveled together, and she also fell in love with Greece, too. The married and honeymooned on the island of Folegandros.
They dreamed of a quite life in Greece, perhaps growing grapes and making wine. September 11 changed everything. Deciding that life is too short, they gave up the corporate life for a wine making adventure on a vineyard in the Santa Rita Hills. In celebration of their love foe Greece, they named it Ampelos Cellars, after the Greek word for vine.
The first harvest came in 2004, the same year they opened Ampelos Resort, a bed and breakfast on Folegandros, run by Peter's sister.
In keeping with the Greek theme, all bottles possess a Greek character and name—a representation of the special characteristics of the wine. Also, the wine club is called "Filos".
Petros Winery Restaurant
Back in 2011, we had a delectable lunch at Petros Restaurant, then-located in the Fess Parker Hotel in the heart of Downtown Los Olivos. When we returned to the area in 2014, we brought some cousins for a leisurely lunch, and it was just as amazing as we remembered it!
On that glorious day, we opted to sit in the garden. A serene setting behind the hotel, ivy-covered walls bordered the patio. Flowers added welcome pops of color.
Born in Athens with roots in Epiros, owner Petros Benekos created something delightful. The traditional Greek dishes embellished to perfection, are infused with a touch of California.
Petros left the Fess Parker Hotel in 2017, moving to Solvang. Does that ring a bell? If that town sounds familiar, it's likely because it's featured in the movie "Sideways". That Petros location is now closed. I've recently learned that Petros returned to Los Olivos, opening Petros Winery & Restaurant at 3360 Foxen Canyon Rd.
According to Los Olivos' website, "Petros wines provide a variety of options that would broaden any wine enthusiast's collection with collaborations from Greece and with great wine makers from Santa Ynez Valley and Central Coast." Can't wait to try this on our next visit!
Another Fave
With so much to see and do, add it to your list. More adventures await, and we can't wait to get back to "Greek California" on the Central Coast.
---
Read some more of my California Greek adventures in the WindyCiyy Greek archives:
More California Greek Wine: Family Tradition Continues at St. Sophia Wines
California Wine Month: Celebrate with California Greek Wine
Stama Winery: Honoring Family's Legacy and Wine-making Tradition
---