My Greek Books
Welcome back to My Greek Books! Hope you're getting in some good reading time this summer. It's been really fun to explore some books outside my typical preferences and discover new authors. What are you reading? Share here or comment on my Facebook page on #WhatchaReadingWednesdays posts. If you haven't already, like and follow the page while you're there.
This month, I've been genre hopping! I've read a memoir, a poetry book, and a novel. So without further ado, let's get to this month's My Greek Books!
Maria A. Karamitsos is an Amazon affiliate. As an Amazon affiliate, she earns money from qualifying purchases. By clicking through the links, when you make a purchase, she will receive a small commission at no additional cost to you. It helps to support her writerly endeavors Thank you!
Cooking Greek, Becoming American by Taso G. Lagos
McFarland (January 13, 2022)
Since I grew up in a restaurant, this book had me before I even read the blurb. Taso G. Lagos is an international communication and political media scholar, Lecturer at the University of Washington's Jackson School of International Studies, and Founding Director of the Greece Study Abroad Program. His research, which has a strong historical dimension, "focuses on media history involving immigrants and members of the Greek diaspora, as well as on questions of digital democracy and nation-branding as an emerging form of nationalism". He's also the author of American Zeus: The Life of Alexander Pantages, Theater Mogul and several other books and publications.
With his academic focus and the unique perspective of someone who grew up in a restaurant and in an immigrant family, he's the perfect person to pen this book.
About Cooking Greek, Becoming American
Taso recounts growing up in his family's Continental Restaurant in Seattle. Anyone who's worked in a restaurant can attest to the nature of this work. It's hard. It's frustrating. It takes over your life. Taso bares it all, including how he ended up on the academic path, and what led to his family leaving the business. As an academic, he analyzes the impact of these institutions on the community, and on the immigrants who run them. At the end, he includes recipes for some of the restaurant's most popular dishes.
My Greek Books review of Cooking Greek, Becoming American
Reading this book brought me back to my days in our family's restaurant, from the frustrations, the fatigue, to the customers who became like family. Like Taso, my siblings and I disliked every moment of it, but through the lens of time, have fond recollections. We remember well the lessons we learned from behind the counter—and the front. I really connected with the stories about the work, the family, and the customers, but I particularly enjoyed his examination of the impact on the community. I know the impact on a family—short-term and long-term—but this is something I hadn't considered before. If you've grown up or worked in a restaurant, or know someone who has, you'll definitely relate. But this will make you realize that all those hours we trudged away affected so many, and in the most positive ways. You'll look at the "Greek diner" in a whole new way.
Learn more about Taso G. Lagos here
Buy it on Amazon
Maria A. Karamitsos Supports independent booksellers through Bookshop.org. Bookshop supports indies in two ways: 10% of regular sales on Bookshop.org are added to an earnings pool that is evenly divided and distributed to independent bookstores every 6 months. As a Bookshop.org affiliate. She'll earn a commission if you click through and make a purchase.
The Fairmounts by Valerie Nifora
Author Academy Elite (July 19, 2022)
Award-winning Greek-American Writer and Poet Valerie Nifora presents her first novel, also the first in a series. The native New Yorker is also the author of the romantic poetry collection I Asked the Wind, which has garnered multiple awards. Valerie is active on social media and I subscribe to her newsletter. I love her personality, but she totally had me at this line from her author bio: "She credits her Greek heritage for her love of words and storytelling."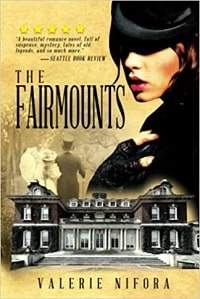 About The Fairmounts
The Fairmounts, which she calls a " historical romantic-suspense story", s told from the perspective of Harry LaCroix. It's the turn of the 19th century, and after many long, hard years in the war in Africa, he's eager to get back home, to his last living relative, his Aunt Lois. She's closer to his age, and is his lifelong confidant. She's been his whole world. While he was away, Lois snared the most eligible bachelor in town, the inimitable John Fairmount, heir to his uncle's fortune and a sharp businessman in his own right. Harry is skeptical of this marriage and of his new "uncle", but no need to worry, as Lois is not only enchanting, but strong.
Harry, now an attorney, enjoys his time reconnecting with is aunt, and reveling in their memories and familial bond. Everything changes when he meets Mary. She's her family's soul survivor, with a mysterious past—and a fortune she wants nothing to do with. Mary captures Harry's heart, and John plays on it for his own gain, making Harry a pawn in a potentially dangerous game. A series of unexpected events threaten Harry's future—and Mary's—and could jeopardize this unlikely family. Will they find happiness? You'll have to read it to find out.
My Greek Books Review of The Fairmounts
I'd been following the pre-launch hype for The Fairmounts and didn't know what to expect. I was intrigued at the opening pages and loved every moment thereafter. Valerie Nifora captured the era so beautifully, from Harry's language to the descriptions of places and events. Each of the main characters hold their own mystery that all came to a head in ways I never anticipated. The Fairmounts will entice you and entrance you from the first moments. It's a quick read that you won't be able to put down. I'm in. I'm so in, and can't wait for the next book in the series. The Fairmounts is also available on Audible and Kindle.
Learn more at valerienifora.com
Are you on my email list? Get my monthly newsletter and stay up to date on all my latest news, learn about recent blog posts, and more. Click HERE to join. It's FREE.
Sweeping Up Stardust by Dean Petrakis
Independently published (August 24, 2021)
Greek-American Writer, Actor, and Businessman Dean Petrakis' name may sound familiar. He's the son of the late Harry Mark Petrakis, the eminent writer who, with his stories of Greek immigrants in Chicago, helped usher Greek-Americans into the mainstream. That impressive pedigree is surely tough to live up to, but Dean holds his own in his first poetry and prose collection, Sweeping Up Stardust. I absolutely love this title, as it conjures a multitude of images, from magic, to fate, the remnants of a life lived, and even celestial beings.
Harry Mark wrote the foreword for the book, in which he begins with this line: "I'm not sure when (if ever) I have read a foreword written by the writer's father. The question a reader might ask is whether any father can remain truly objective?" He continued, noting that though he's known his son his whole life and has loved and nurtured and protected him ever since, to praise something not worthy would do them both a disservice. The late author brilliantly sets the stage for the work.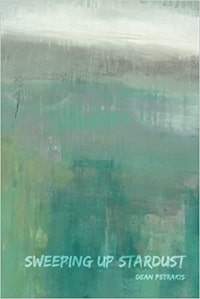 About Sweeping Up Stardust
This collection of prose, poetry, and observations is a glimpse into the soul of the author. He takes us through his life, the joy, the pain, the tragedy, the quest for knowledge, for peace. Dean reflects on his youth, his extended family, losing a child, falling in love later in life, and the road he's traveled.
My Greek Books review of Sweeping Up Stardust
Dean Petrakis has created a work of which I'm sure his father was very proud. In this beautiful book of poetry and prose that is part memoir, part poetic journey, he opens his heart and soul to reveal the love and joy that rise above tragedy and pain. That life is full of unexpected surprises, and every twist and turn in the road offers something for us to ponder, to learn, to grow.
This is a collection I've been savoring over the last few months. The passages evoke thoughts and images on which I ruminate. And it keeps calling me back. Some passages I have read multiple times, and there others I haven't yet read. Sweeping Up Stardust is now among those books that stay with me, that I return to over and over. I truly hope we'll see more from Dean Petrakis.
Buy it on Amazon
My Greek Books—August 2022 Edition
That's it for this month! Summer is coming to a quick close. Be sure to in get some extra reading time—and some last summer fun! See you next time!
---
Read more:
My Greek Books—March 2022 Reads
FROM THE ARCHIVES:
REVIEW: 'The Water and the Wine' by Tamar Hodes
REVIEW: 'Lament from Epirus' by Christopher C. King
REVIEW: 'Remember for Me' by Diana Tarant Schmidt
---
Maria A. Karamitsos is an affiliate for Amazon and Bookshop.org. As an affiliate, she earns money from qualifying purchases. By clicking through the links, when you make a purchase, she will receive a small commission at no additional cost to you. It helps to support her writerly endeavors Thank you!
---