My Greek Books
It's My Greek Books time! This month, I'll share a memoir, a novel based on a true story, and a collection of memoir essays.
Let's do this!
Maria A. Karamitsos Supports independent booksellers through Bookshop.org. Bookshop supports indies in two ways: 10% of regular sales on Bookshop.org are added to an earnings pool that is evenly divided and distributed to independent bookstores every 6 months. As a Bookshop.org affiliate. She'll earn a commission if you click through and make a purchase.
Unpacking for Greece: Travel in a Land of Fortresses, Fables, Ferries, and Feta by Sally Jane Smith
Independently published (June 1, 2023)
About the author
Australia-based Author Sally Jane Smith has lived on 5 continents. An intrepid traveler, to date she's visited 33 countries. She credits Greece with turning her into a writer. Sally co-hosts 2 book clubs and participates in organizing a biennial book-themed competition.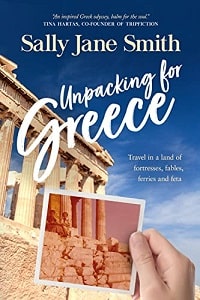 The story
While traveling through Sri Lanka in 2006, Sally's bus was involved in a head-on collision, which "broke my body and my spirit". Her body healed, but her wanderlust waned. When she discovered a travel diary from her mother's 1978 trip to Greece, she had a revelation—a trip to Greece could not only release her from her fears and reignite her passion for travel, but also, it might provide some connection to her late mother and bridge the gaps in their relationship.
Though out of "travel shape", physically and mentally, she packed a suitcase, her mother's diary, and on her small budget, set out for a trip that would change her life in endless ways.
My Greek Books review
I'm so happy Sally embarked on this trip, not just for herself, but for the amazing experiences she shared with us. Her eloquent and beautiful descriptions are so vivid, you'll travel right alongside her. You'll see and feel every moment of her journey, as she grows and changes and comes to terms with much in her life. Her solo trip—and her story—is not just a travel memoir. It's a story of re-learning to trust oneself, opening to possibilities, making peace with the past, and cruising with confidence through middle age. Bravo!
Unpacking for Greece will be out June 1, but is available for pre-order.
Maria A. Karamitsos is an Amazon affiliate. As an Amazon affiliate, she earns money from qualifying purchases. By clicking through the links, when you make a purchase, she will receive a small commission at no additional cost to you. It helps to support her writerly endeavors. Thank you!
The Purchased Bride by Peter Constantine
Deep Vellum Publishing (April 4, 2023)
About the author
Born in London to an Austrian mother and a British father of Greek and Turkish descent, Peter Constantine grew up in Athens and came to the US at age 20. He's an award-winning and prolific British and American literary translator. He's translated literary works from German, Russian, French, Modern Greek, Ancient Greek, Italian, Albanian, Dutch, and Slovene. Peter is the director of the Program in Literary Translation at the University of Connecticut, the publisher of World Poetry Books, and editor-in-chief of the magazine New Poetry in Translation. He's published several books, but The Purchased Bride is his first novel.
The story
Based on the true story of Peter's grandmother, The Purchased Bride follows a young Greek girl, Maria, in the Caucasus region of Asia Minor, as the Ottoman Empire is crumbling. When rebels set fire to her family's village, they're forced to flee with their neighbors to a refugee camp far away. As the situation turns dire, the priest takes desperate measures to try to save at least some of the refugees. He tells Maria's mother that he has found her a well-to-do husband—and she doesn't need a dowry. The man will actually provide for them, too—and give them enough to take their family to the safety of Athens.
Offering her only daughter will secure their family's future. Her parents agree, without ever meeting the suitor. The priest will facilitate everything. Little do they know, he's actually selling the girls to a wealthy Ottoman Turk in the capital. And securing his own future in the process.
Maria and the other young women in the village are presented for sale, and due to her beauty, Maria is a quick pick. She'll be "set for life". No other girls are selected, but the priest convinces the envoy to take along another girl and some boys to offer them to other rich Ottomans. Ultimately, Maria faces her fate alone.
My Greek Books review
I could not put this book down. I seek out works about this tumultuous period in history in effort to learn more, and this one did not disappoint. I loved learning more about the time period. This is a story of war and the ultimate sacrifice. We see in this story just how far people will go in desperate times. But more than that, since we know this is based on a true story, there is a happy ending. Maria prevailed, had a family—and a successful grandson who could share her story. History is rough, but stories like this are not only about survival, but also the importance of sharing the past, no matter how difficult, so we don't repeat it.
Buy it on Amazon
Are you on my email list? Get my monthly newsletter and stay up to date on all my latest news, learn about recent blog posts, get in on giveaways, and more. Click HERE to join. It's FREE.
Growing Up in an Immigrant Household and Community: Essays by Descendants of Immigrants by Dr. Vicky Giouroukakis
Kendall Hunt Publishing (March 8, 2023)
About the author
Vicky Giouroukakis, PhD is a professor in the School of Education and Human Services at Molloy University in NY. She teaches courses in adolescent literacy, English education, instructional strategies, and TESOL, to undergraduate and graduate students. Prior, she taught English in a public high school in Queens and ESL to kids and adults. She's co-authored several books. The daughter of immigrants, she grew up in Queens and Athens.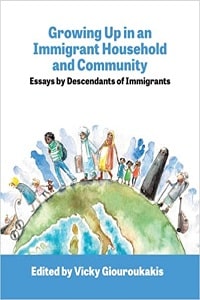 The story
Growing up in an Immigrant Household and Community is a collection of essays written by the children and grandchildren of immigrants, including Vicky and her sons. After conceiving the idea, she solicited works from other children of immigrants—from different countries—to share their unique perspectives on straddling two cultures. After receiving an overwhelming response, she edited this rare collection of first-person accounts, separated into sections including: Challenges of Being the Child of Immigrants, Fond Memories of the Immigrant Community, The Immigrant Household and Food, Life Lessons from Immigrant Parents, and Life Lessons from Immigrant Grandparents.
My Greek Books review
As the daughter of a Greek immigrant father and a Greek-American mother, I slipped easily into this collection. In there, I saw myself. No matter which culture is represented, the challenges and lessons are very similar. I could have easily written it all myself, as I lived through it all and connected with them through reliving these shared experiences. From having to spell and pronounce each letter of your last name (OMG, yes! LOL), living with a father's strict rules and not understanding why until much later, my cherished time with my grandmother, no help with homework, explaining my culture to friends, a big extended family moving in a big pack—I could keep going.
We may originate in different parts of the world. Our native languages may be different. We may cook different types of foods with exotic spices. We may worship differently. But all of us something-hyphen-Americans live a shared existence. We're more alike than we realize. I so enjoyed this collection. And you will, too. Through the words of the writers, you'll relive your own experience and feel a connection, a bond forged by similar upbringings. We owe so much to our immigrant parents and grandparents. We endured the challenges, and I believe, have been enriched for it. Add this to your collection.
Buy it on Amazon
My Greek Books—May 2023 Edition
That's it for this month! Now you have three more books to add to your list. Check back next month to find out what I've been reading. 'Til then, read more books!
Reminder: There are affiliate links in this post. If you click through and make a purchase, Maria receives a small commission at no additional cost to you.
---
Read more:
Author Spotlight: Children's Book Author Agatha Rodi
10 Books to Learn about the Smyrna Catastrophe
---