My Greek Books
Books transport us to places we'd never imagined, to remote locales. They teach us. Provide an escape. Remind us to dream. Let us know we aren't alone. I love books. And if you're reading this, you love books, too. There's no such thing as too many books!
This month, I read three new works, one pulled one my ever-growing "To Read" stack. For my birthday last week, I received three new books. Happy dance!
Keep reading to find out what's new in My Greek Books.
Maria A. Karamitsos Supports independent booksellers through Bookshop.org. Bookshop supports indies in two ways: 10% of regular sales on Bookshop.org are added to an earnings pool that is evenly divided and distributed to independent bookstores every 6 months. As a Bookshop.org affiliate. She'll earn a commission if you click through and make a purchase.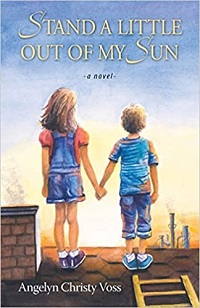 Stand a Little Out of My Sun by Angelyn Christy Voss
Nature's Light Press (August 4, 2020)
In her debut novel, Greek-American Author Angelyn Christy Voss draws on her experiences growing up in an immigrant family on Chicago's Southeast side. Set in the 1950s, cultures and generations collide in a story of love, betrayal, loss, community, redemption, and the true meaning of family.
Christina, the daughter of Greek immigrants, married "American" Tom against her family's wishes. Tom's changed since he and Christina fell in love; she tries to hide her unhappiness from her parents. Yiayia and Papou are a huge part of the family's life, much to Tom's chagrin. However, they provide a stabilizing force, a peaceful oasis, in which their kids, Sophie and Niko, never want to leave.
Tom repairs cars but becomes embroiled in a scheme to get ahead. Young, impressionable Niko looks up to his father and wants his attention. Hoping to impress his father, he hangs out in the garage, learning everything he can about cars. When Niko distances himself from Sophie, who's appointed herself her little brother's protector, she senses something isn't right. Niko gets pulled into an illegal scheme that ends in tragedy. When Tom goes to jail, it threatens the entire family. But a second chance from an unlikely source saves the day. But can it save the family?
In this poignant tale, Angelyn Christy Voss pays homage to her beloved Greek roots and customs, as well as her hometown. She tells a powerful story about second chances, redemption, faith, and forgiveness. Sometimes your strongest ally is the least likely one.
My Last Lament by James William Brown
Berkley Books (April 4, 2017)
Author James William Brown lived and taught in Greece for 10 years.
Aliki, skilled in the art of lament, is among the last practitioners. This custom mourns the dead, memorializes them, and celebrates their passing to immortal life. In effort to understand this vanishing folk tradition, an American researcher asks Aliki to record her laments and discuss her process. Aliki shares her story through her recollections of life during the Nazi occupation and the aftermath of WWII.
In a tiny village, Aliki witnesses her father's execution, leaving her mute. A local woman, Chrysoula, invites Aliki to live with her and her young son, Takis. The villagers struggle through the war, as the Nazis seize their food, livestock, even homes. Aliki learns that Chrysoula is hiding a Greek Jewish woman, Sophia, and her son, Stelios. The children play together. They create and perform Karagiozis puppet shows to pass the time. But no one can know their secrets.
The three young people are left on their own, a makeshift family rocked by fear, heartbreak, and betrayal. They escape. Aliki regains her voice as they fight to survive. Their lives intertwined, she reveals their postwar fate. Ultimately, Aliki shares her own lament, in which she faces her own immortality, mourns her losses, and her dying art.
James William Brown's tale paints a vivid picture of WWII Greece, taking us deep into the people's suffering and the aftermath. His love for Greece and her people shines through, as he captures their fighting spirit. Through the timeless Aliki, he makes us rethink these age-old customs—they're more than just traditions. They're beautiful, meaningful customs facing extinction. Do we bury the past and move on, or does it have a place in the future? This is a story you won't soon forget.
Are you on my email list? Get my monthly newsletter and stay up to date on all my latest news, learn about recent blog posts, and more. Click HERE to join. It's FREE.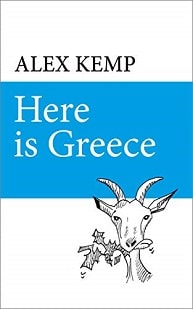 Here is Greece by Alex Kemp
Independently published (August 28, 2020)
Brit Author Alex Kemp never considered he'd move to Greece. But when he meets his wife, a Greek teacher working in Britain, everything changes. He follows her to Greece and starts a whole new life. Because of her job, they travel throughout Greece, to far corners, to islands, and more. Alex takes us along on his adventures, learning about the history, the people, the landscape of Greece. Through the norms of his country and his upbringing, we watch as he encounters this land of long-held traditions, vibrant personalities, and rich history.
From Athens, to his wife's native Amaliada in Ilias, they begin their travels. In the remotest corners of Greece, he encounters multicultural communities and learns the local history. He didn't expect to find Pomaks, Vlachs, Turks, and other ethnic groups, all with a shared, entangled history. He visits places throughout the country, learning their history and experiencing their customs.
I love reading books about Greece written by non-Greeks. It's fascinating to see the country from their perspective. Things we take for granted that to foreigners are just that—foreign.  Here is Greece is a candid look at Alex Kemp's travels as a stranger in a strange land. He takes us along on this intrepid journey, sharing the history he discovers along the way as well as his first impressions of Greece. He's been to more parts of Greece than many of us ever dream. Follow along on the adventures, learn something new, and add these fascinating places to your travel list.
Maria A. Karamitsos is an Amazon affiliate. As an Amazon associate, she earns money from qualifying purchases. By clicking through the links, when you make a purchase, she will receive a small commission at no additional cost to you. It helps to support her writerly endeavors Thank you!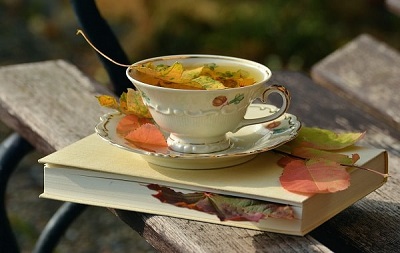 My Greek Books – November Edition
That's it for this month! Tune in next month to discover what's new in My Greek Books. Curl up with a cup of tea and a good book.
Till next time – keep reading!
Books make great gifts! Check out my shop on Bookshop.org and support independent bookstores. I add new books to my lists every week!
---
Read more My Greek Books:
---