My Greek Books
Welcome back to My Greek Books. I took a little hiatus in July but I'm back! I must admit, sadly, we have a lot going on, so I'm not getting as much reading time in as I would like. But school starts again next week, and as we slide back into our regular routine, I'll take back my reading time.
As I write this, our beautiful Greece in on fire and the world is upside down. We need our books more than ever. We need the escape; we need the adventure.
Keep going to learn what I've been reading and about some other books to add to your list.
 Maria A. Karamitsos Supports independent booksellers through Bookshop.org. Bookshop supports indies in two ways: 10% of regular sales on Bookshop.org are added to an earnings pool that is evenly divided and distributed to independent bookstores every 6 months. As a Bookshop.org affiliate. She'll earn a commission if you click through and make a purchase.
A Thousand Ships by Natalie Haynes
Harper (January 26, 2021)
This month's feature in My Greek Books is A Thousand Ships. Author Natalie Haynes writes for the Independent and the Guardian and is a regular contributor to BBC Radio 4, reviewing for Front Row and Saturday Review. According to her website, she's appeared as a team captain on three seasons of "Wordaholics" and banging on about Juvenal whenever she gets the chance. Six series of her show, "Natalie Haynes Stands Up for the Classics", have been broadcast on Radio 4. The Washington Post calls her a "Rock Star Mythologist". She's authored six books.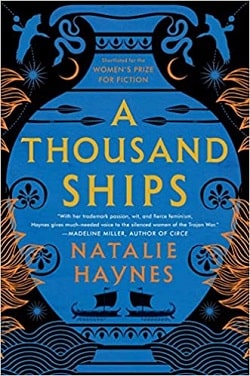 First published in 2019, A Thousand Ships was shortlisted for the Women's Prize for Fiction in 2020. The author clearly has a passion for Greek myths. We all know the story of the Trojan War, with tales of Achilles and Paris, of Odysseus and Menelaus. The men. But they weren't the only ones with a story to tell. What about the women around them? What about Cassandra? Penthesilea? Hecate? Chryseis? Briseis? And all the other women who witnessed the horrors of the war that lasted, by some accounts 10 years and others 20? This mythical battle over Helen, "the face launched a thousand ships"? Natalie Haynes gives them all a voice in this stunning re-telling of the myth. The story is told through the eyes of the women, empowering them with the voice and the opportunity to say what they need to say. And Natalie does it in a masterful way. I'm about 2/3 of the way through and I'm loving it. If you've enjoyed the recent succession of modern retellings of myths a la Circe, you'll want to check this one out too. I look forward to reading more of Natalie Haynes' books.
Are you on my email list? Get my monthly newsletter and stay up to date on all my latest news, learn about recent blog posts, and more. Click HERE to join. It's FREE.
New 'Greek Books' to add to your list
I've added lots of new books to my to-read stack. Here are some to check out:
The Violins of Saint-Jacques by Patrick Leigh Fermor, introduction by James Campbell
NYRB Classics (July 11, 2017)
Did you know that Patrick Leigh Fermor wrote a novel? The war hero of the Battle of Crete who fell in love with Greece and published tales of his travels, published his novel in 1953.
Here's the book's synopsis:
Patrick Leigh Fermor's only novel displays the same lustrous way with words as his beloved travel trilogy (A Time of Gifts, Between the Woods and the Water, and The Broken Road), the memoir of his youthful walk from the Hook of Holland to Constantinople. This slim book starts with the meeting of an English traveler and an enigmatic elderly Frenchwoman on an Aegean island. He is captivated by her painting of a busy Caribbean port in the shadow of a volcano, which leads her to tell him the story of her childhood in that town back at the beginning of the twentieth century. The tale she unfolds, set in the tropical luxury of the island of Saint-Jacques, is one of romantic intrigue and decadence involving the descendants of slaves and a fading French aristocracy. Then, on the night of the annual Mardi Gras ball, a whole world comes to a catastrophic and haunting end.
 The Blue Dolphin: A World War II Novel by Kathryn Gauci
Ebony Publishing (June 5, 2021)
The Brit PhilHellene Author of The Embroiderer and several other best-selling novels lived in Greece for six years and now calls Australia home. Her latest book takes her—and us—back to Greece.
Here's the book synopsis:
Set on a Greek island during the German Occupation of Greece, The Blue Dolphin reads like a Greek tragedy. Rich with loyalties and betrayals, it is a harrowing, yet ultimately uplifting story of endurance and love.

1944 Greece: After Nefeli loses her husband during the Italian invasion of Greece in 1940, she ekes out a meager living from her Blue Dolphin taverna with the help of her eight-year-old-daughter, Georgia, their small garden, and Agamemnon the mule.
Four of Nefeli's close friends, who belong to the Greek Resistance, ask her to hide a cache of weapons, placing her in mortal danger from the enemy. When the Resistance blows up a German naval vessel filled with troops, three of them are killed, and the Germans start to make regular visits to the island.
With the loss of her friends, Nefeli's dire circumstances force her to accept a marriage proposal arranged by the village-matchmakers, but what happens next throws everyone on the island into turmoil and changes the course of Nefeli's and Georgia's lives forever.
The Maidens by Alex Michaelides
Celadon Books (June 15, 2021)
The newest novel by the Greek-Cypriot-Brit best-selling author of The Silent Patient was named an Amazon Best Book of June 2021.
Here's the book's synopsis:
Edward Fosca is a murderer. Of this Mariana is certain. But Fosca is untouchable. A handsome and charismatic Greek tragedy professor at Cambridge University, Fosca is adored by staff and students alike―particularly by the members of a secret society of female students known as The Maidens.

Mariana Andros is a brilliant but troubled group therapist who becomes fixated on The Maidens when one member, a friend of Mariana's niece Zoe, is found murdered in Cambridge.

Mariana, who was once herself a student at the university, quickly suspects that behind the idyllic beauty of the spires and turrets, and beneath the ancient traditions, lies something sinister. And she becomes convinced that, despite his alibi, Edward Fosca is guilty of the murder. But why would the professor target one of his students? And why does he keep returning to the rites of Persephone, the maiden, and her journey to the underworld?

When another body is found, Mariana's obsession with proving Fosca's guilt spirals out of control, threatening to destroy her credibility as well as her closest relationships. But Mariana is determined to stop this killer, even if it costs her everything―including her own life.
Maria A. Karamitsos is an Amazon affiliate. When you click through a link and make a purchase, she receives a small commission at no extra cost to you. It helps support her writerly endeavors.
Have you read these books? Share in the comments below.
My Greek Books—August 2021 Edition
That's it for this month's My Greek Books. I'm excited to dive back into these new books. Let me know what you're reading in the comments below.
Til next time, pray for our amazing Greece. Stay well and keep reading!
---
Read more:
The Library of Harry Mark Petrakis
---