My Greek Books
Welcome back to My Greek Books! This month, I read three new "Greek books". This month's reads transported to me to the island of Crete during the Junta years and to Greece during WWII. I also read a heartfelt memoir from an accomplished young woman.
Now, without further ado, here are this month's My Greek Books.
Maria A. Karamitsos Supports independent booksellers through Bookshop.org. Bookshop supports indies in two ways: 10% of regular sales on Bookshop.org are added to an earnings pool that is evenly divided and distributed to independent bookstores every 6 months. As a Bookshop.org affiliate. She'll earn a commission if you click through and make a purchase.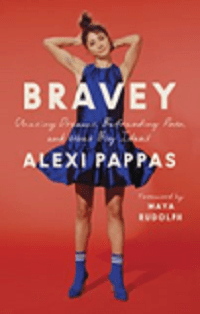 BRAVEY: Chasing Dreams, Befriending Pain, and Other Big Ideas by Alexi Pappas
The Dial Press (January 12, 2021)
Alexi Pappas is a Greek-American Olympic athlete, filmmaker, actress, writer, and now author. Her much-anticipated memoir hit the shelves last month, with a beautiful forward by Maya Rudolph. You might wonder, as I did, "Why is a 30-year-old writing a memoir?" Well, this 30-year-old has packed a whole lot of living and accomplishment into her 30 years.
In a series of essays, Alexi Pappas bares all. From being raised by her father after her mother's suicide, to forging her life's path and lessons learned, Alexi is open and honest. I had the opportunity to chat with Alexi about her book and her life last month, in a live virtual interview for the Hellenic-American Cultural Center & Museum of Oregon and SW Washington. You can watch it here.
Alexi not only reveals her challenges and her successes but also talks about the importance of mentors and their impact on her. She lays bare the truth about her post-Olympic depression and how she fought to overcome it, and more. She shares intimate portraits, the good and the not so good.
Review
BRAVEY offers wisdom for the young and seasoned woman alike. With her refreshing candor, her words made me stop and think. As I read more about the absence of her mother and how other mothers tried to compensate, I reflected on my mother, her influence, and myself as a mother. Alexi Pappas is a gifted writer. She's an inspiration, a true role model for young girls. Her ability to share her experiences into a genuine and heartfelt way and forge them into practical advice make this a must-read. BRAVEY will make you laugh, cry, reflect, and learn.
Are you on my email list? Get my monthly newsletter and stay up to date on all my latest news, learn about recent blog posts, and more. Click HERE to join. It's FREE.
The Forgotten Song by Richard Clark
Independently published (January 28, 2021)
Richard Clark is the author of a dozen books about Greece, including several travel memoirs. I've enjoyed and reviewed his novels, including The Lost Lyra and Return to Turtle Beach. The Brit author has a home on Crete, and his love for the island and its influence are evident in his work. And this one is no exception. When Richard emailed me an advanced copy of the book, I couldn't wait to read it. It's a quick read; I devoured it in two days.
About The Forgotten Song
Phoebe is a songwriter and musician who grew up with her mother in England. She never knew her father, only that he died before she was born. When her life falls apart, she travels to Crete, hoping to learn something about him, and where she goes from here.
We trace her mother, Liz's travel to Greece after her parents announced their divorce. With only her guitar and a rucksack, she follows a man to Crete, to join some other hippies, and leave the world behind. The illusion quickly shatters, and Liz goes her own way. But she doesn't know where to go. She rents a room in a village and tries to sleep. But it's Resurrection night. The entire village pours into the church behind her. When she goes out to investigate the source of the noise, she meets Georgios. She befriends him and his sister. Georgios and Liz explore Crete and its history. He helps Liz reconnect with her love for music and her confidence. They fall in love. She writes a song for him.
Georgios, also a musician, loves Rembetika, but the Junta doesn't. He defies the ban and plays the music. They're arrested. Junta officials put her on a plane back to England. They tell Georgios' family that he's dead. Distraught, they move to Australia.
Back in England, Liz learns she's pregnant. She and her parents raise Phoebe. When Phoebe travels to Crete in search of her past, she uncovers more than she bargained for. When she sings the song her mother wrote for her father, the pieces come together.
Review
Richard's love for Crete overflows in his descriptions of the island. In The Forgotten Song, you'll travel through Crete and learn some of its rich history. You'll also be reminded of the power of music in the story of our lives.
Maria A. Karamitsos is an Amazon affiliate. As an Amazon associate, she earns money from qualifying purchases. By clicking through the links, when you make a purchase, she will receive a small commission at no additional cost to you. It helps to support her writerly endeavors Thank you!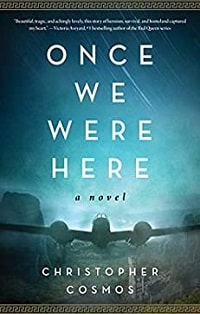 Once We Were Here by Christopher Cosmos
Arcade Publishing (October 20, 2020)
Christopher Cosmos is a Greek-American screenwriter from Michigan whose work has been featured in the Black List of best Hollywood screenplays of the year. The book is based on true accounts.
About Once We Were Here
Once We Were Here transports us to Greece during WWII. We follow three friends, Alexei, Costa, and Philia. Born on the same day, Costa and Alexei are more like brothers than friends. When Metaxas issues his historic "Oxi" to Mussolini's ultimatum, they answer the call to defend their homeland, her ancestors, and her its future. Before they leave, Alexei, a fisherman's son, proposes to Philia. He's loved her his whole life. He convinces her wealthy father to consent; he says he'll do it as long as Alexei returns.
The young men leave the village to join the Resistance, further entwining their families. Costa and Alexei fight for their country, their families, and their future. Meanwhile, the Germans occupy the village and exercise their brutality on the innocent women, children, and elderly. Their families join forces to protect the next generation.
As Alexei and Costa become skilled soldiers, they learn the true cost of war. At the tender age of 19, they sacrifice everything, witness the horrors of war, and must make quick decisions of life or death.
Review
Once We Were Here is a gut-wrenching story with cinematic quality. Christopher Cosmos vividly portrays the human side of war, from the untrained Resistance fighters to the villagers and survivors. He reminds us why Greeks are so fiercely proud of their country and defend their legacy. The characters are people we know. We identify with them. Our Greek hearts will swell with pride learning about the brave fighters, and it will break at the brutality, destruction, and bloodshed. But in the end, we're reminded of the power of human spirit. That in the face of war and death, love, honor, and family prevail.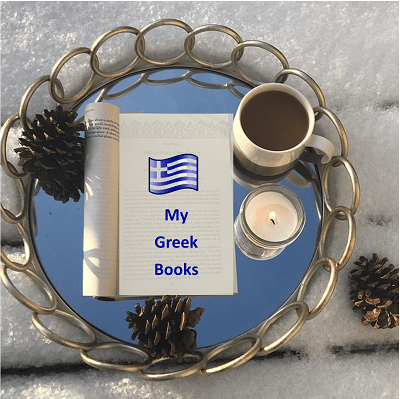 My Greek Books—February 2021 Edition
That's it for this month! This edition of My Greek Books sent us on a roller coaster ride of emotions and reflection. But more than that, they took us on a journey from our everyday. I hope you, too, find escape, solace, respite, delight, and knowledge in books. Let me know in the comments what you're reading.
Keep reading! See you next time with more My Greek Books!
---
Read more My Greek Books:
---