A snowy "SOUL"-iloquy
I couldn't wait to get out in the fresh powder. Through the kitchen window, I watched the snow cascading from the sky, like sifted powdered sugar. I thought the walk would be beautiful. That's an understatement. This is a Soul Walk.
Have you ever experienced something incredible unfolding right in front of you? That gives you chills? Whispers in your ear that something magical is about to happen? This is one of those times.
Follow me on a soul walk
I'd planned a short walk. But the longer I walk the more I want to keep going. I don't want those moments to end. I trudge my feet through the heavy snow, staggering. Now in an exaggerated march, I lift and lower my feet and hear the snow crunch. My heart beats faster. The crisp air caresses my skin as the tiny snowflakes kiss my cheeks. Like a child, I open my mouth to catch the snow. It dances on my tongue, even quenches my thirst from the long walk. There are no cars around. The snow, still pristine white, blankets the earth, untouched, save for a few footprints. I'm glad I'm not the only one who's had the chance to experience this today. I walk toward the Secret Path. Something calls to me.
"You have to see this, be this," said the voice. It's God. He stretched out His hand and offered me this gift. I wisely accept.
I enter the path. Silence. Glorious silence. This path nestled between homes and industry, adjacent to the creek, seems miles away. Here, serenity rules. There's a snow-covered bench. Ahh, to just sit here and while away the hours. I walk. Hear only the ripples of the creek and the crunch of the snow under my feet. I watch the snowflakes land on the trees. They've been naked, left bare from the absence of their leaves. But now they're dressed in a gleaming white. The snow sparkles like diamonds. I love how the snow piles in the branches, filling the nooks and crannies, the empty spaces, embracing them, enveloping them, nurturing them.
I stop to take photos and record my observations. I fear I'll forget them when I return home. I want—I must—capture them, preserve them to revisit. You know when cars come out and the snow turns gray and black and dirty? Well, this is something I want to recall when life turns muddy.
The snow continues to fall, bringing blessings and love from above. I marvel at God's handiwork. It reminds me that He is the ultimate artist. The canopy of snow-covered trees beckons me forward. What's around the bend? I observe two birds. They've somehow lost their travel pack, left behind. They're quiet; they don't want to disturb me. They're still. They observe, too. I wish they'll find their inner map and the corridor to warmth. Their feathers are not enough to shelter them from the cold. I hear a screech. Must be a squirrel. He says hello, sings a welcoming song. "Hi. I'm glad you're here."
It's peaceful. Quiet. I hear some faint traffic in the distance, but mostly the sound of the rushing water. Sparkling, white, fluffy snow surrounds me. This magical walk ignites my soul. I feel like a child, trundling through the snow. I trudge through, slow enough to enjoy, but quick enough to feel my heart beat faster. It's calm. A respite from the chaos of the world.
Thank you, God. Thank you for this beautiful day. These magnificent sights. The ability to enjoy it and take it all in. Your beauty is boundless.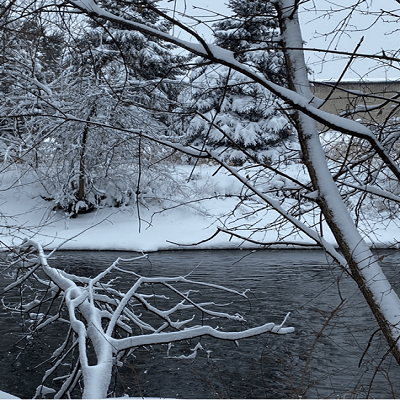 I've always viewed winter as dismal. Cold. Dreary. Depressing. When flora browns and shrivels, goes dormant, and we move inward, hibernate, hide in the warmth of our homes, and take things slower. But on this day, I see it differently. This splendor is full of grace. It's enchanted. If you miss the magic, you miss the spirit, the joy, the purpose of this season. And they all have a purpose. All have something to offer.
This is what we call the simple joys. Unbridled, flowing, uplifting. But you must go out to experience it. You must answer the call and go discover it before the magic passes. Yes, it's fleeting, but there's still time to grab it. Don't squander the chance.
I don't want to go home, but in a way I do. I want to sit and capture these moments before they're lost. I walk a little further, then exit the path. The wind blows harder, stinging my cheeks, forging drifts in the snow. Forming piles of whip cream on one side, peaks of meringue on the other. Adding to all this goodness. The cherry on top? That I'm here. I witness it. I engage in it. I feel it with all my senses. I'm closer to home now. My fingers sting from the cold. It's time.
This is my SOULiloquy. I'll recall this walk in my mind's eye when things feel ugly, chaotic. This is pure and simple joy. A blessing. A respite from the world's chaos. It's rebirth. It's love. It's peace. It's Heaven on earth. It renews. Energizes. Refuels. Nurtures heart and mind. Soothes the soul and stirs the spirit. I call it magic, but it's truly God's artistry. This my friends, is a SOUL WALK. Take one and catch the magic.
Thank you, God.
---
Are you on my email list? Get my monthly newsletter and stay up to date on all my latest news, learn about recent blog posts, and more. Click HERE to join. It's FREE.
---
Read more:
Ramblings on a Late Summer Walk
Explore "Greek California" on the Central Coast
---
Looking for book recommendations? Check out my "store" on Bookshop.org and support independent bookstores. I add new books to my lists every week! HERE I'm a Bookshop affiliate and will receive a small commission on your purchase, at no extra cost to you.
---