The creative process and "Get Back"
Have you watched the Disney+ series, "The Beatles: Get Back"? I finally saw it this past week. The 3-part epic, produced and directed by Peter Jackson, is an absolute delight. The 8-hour long documentary, co-produced by Paul McCartney, Ringo Starr, Yoko Ono, and Olivia Harrison has been called "a documentary within a documentary". The previously unseen footage was filmed in 1969 over a 21-day period. I thoroughly enjoyed it, for so many reasons.
How fun to tap into a time before I was born, so real, so raw. There's no commentary. The cameras just ran, and that's what you see. I love the music, as most do, so I don't have to comment there. If you haven't seen it, you'll observe the evolution of the iconic songs from 'Abbey Road' and 'Let It Be'. You'll also get a truer picture of the band toward the end of their tenure. This time in the band's career had been previously reported as difficult, full of conflict, and frankly, a drag. This documentary shows a different story. There's so much to cull from this footage. You'll have to watch it to see what I mean.
What I loved the most was the glimpse into their creative process. Any type of creative will relate, whether visual artist, performer, musician, writer, etc.
The muse
Years ago, I sat in on such sessions with friends' bands. I loved being in the room, the buoyant, magical energy. Since I'd given up my musical aspirations, these times were even more meaningful for me—especially when they sought my opinion. My spirit soared. How I miss those feelings and those days! This took me back.
In the series, you'll watch the band write some of their biggest hits. And believe it or not, they didn't come as easy as we may have thought. I think many—myself included—expected that perhaps these musical geniuses just "spit out" these songs ready to go. But they were still human. And though occasionally the creative process can work that way, it usually doesn't.
I know as a writer, some days, the words flow and it's thrilling—the muse whispers in your ear and you capture the essence as best as your human mind and heart will allow. And other days, you trudge along, your words—or notes—not in harmony.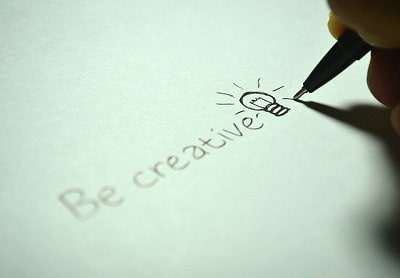 The lesson
The creative process is messy, wonderful, frustrating, exhilarating, tiring, magical. It ebbs and flows. Sometimes the muse sits on your shoulder feeding something golden into your soul, and other times, she's nowhere to be found. And you get to see it on full display here. It's work. Sometimes it feels like drudgery, but you must be tenacious in the effort. You must find a way. If you give up, you'll miss the glory. Miss the enchantment. You might even miss your magnum opus, or simply an exercise to flex those creative muscles. Or just to kick out the cobwebs to reach those precious nuggets.
Thank you John, Paul, George, and Ringo for allowing the cameras in, for reminding us why we love all things Beatles, and most of all, for showing us that even the most gifted creators struggle with creativity. Thanks for pushing through. The "muse" is fickle, but we must persevere. Think for a moment what would have happened if the Fab Four gave up. Put away their instruments and called it quits before giving us these gifts? 'Abbey Road' is my fave Beatles album and includes one of my all-time fave songs—"Something".  Had they given up, that masterpiece and all the memories it conjures, would be nonexistent. I'm sure there's some creative work that means that much to you. Where would you be without it?
Your creative process
The Beatles used humor, revisited their old songs as well as other favorites, and more. Share in the comments about your creative process and how, when the muse is MIA, you stay motivated.
Happy Creating!
---
Read more:
Catch the Magic on a Wintery Soul Walk
Got a Story in You? Stuck in the Mud? Don't Give Up!