My Greek Books
My Greek Books is back with some wonderful reads for you! I've been getting in a lot more reading, searching for comp titles for my novel (FYI—I did finish it and I've started querying literary agents!), and reading a couple of to-be-released books. I'll share those with you when their release dates are announced. This month, I share with you three books, one a memoir and two novels that whisk me away to Ikaria and Kalymnos.
Keep reading to learn more!
Maria A. Karamitsos Supports independent booksellers through Bookshop.org. Bookshop supports indies in two ways: 10% of regular sales on Bookshop.org are added to an earnings pool that is evenly divided and distributed to independent bookstores every 6 months. As a Bookshop.org affiliate. She'll earn a commission if you click through and make a purchase.
One Last Chance by Jeffrey Siger
Poisoned Pen Press (April 5, 2022)
If you've followed me over the years, you know I'm a big fan of Jeffrey Siger. I couldn't wait for the Chief Inspector Andreas Kaldis Mystery #12, and it did not disappoint!
This time, Andreas' assistant Maggie is front and center. We follow her to Ikaria, for the funeral of her 104-year-old grandmother. Though in advanced age, her yiayia was healthy. As Maggie learns more about her yiayia's last days, she believes that her grandmother—and other long-lived islanders who'd recently passed away—may have been murdered. Using all she's learned over the years, she embarks on her own investigation, which gets her in a sticky situation. Meanwhile, back in Athens, Andreas and Yianni begin looking into a smuggling ring embedded in the Greek DEA, which may be connected to a policeman's assassination.
When Yianni uncovers a lead that points to Ikaria, he heads to the island, where he and Maggie discover a link between the two investigations. But the international players could be far more dangerous and deadlier than they've encountered before.
Review of One Last Chance
Because this is Jeffrey Siger, I knew I was going to love this before I even opened it. I feel like Andreas, his wife Lila, Yianni, Maggie, and Tassos are old friends. I couldn't wait to catch up on their latest caper. That said, the characters are so beautifully written, this volume could easily standalone. But do read all 12! This time, Siger took us to the rustic island of Ikaria, a Blue Zone designation. An island where "people forget to die". The descriptions are so vivid, I felt like I was there while it was happening. Once again, Siger taps into the modern-day intricacies of Greece, while capturing its spirit. I look forward to #13, and another book Siger has started to pen, which is not part of this series.
Learn more about Jeffrey Siger here
Are you on my email list? Get my monthly newsletter and stay up to date on all my latest news, learn about recent blog posts, and more. Click HERE to join. It's FREE.
Goddogs by Nikki Karis
Finding Zeni, Inc. (November 25, 2021)
Nikki Karis is a high-powered Florida attorney. Beautiful, successful. She's got everything going for her. Except she's hit a dead end. She's burnt out. She's getting older and is still single. Unable to discover her true purpose, she gets angry with God. Starts to question everything. In the midst of a particularly draining high profile case, she begins to plot her escape from the legal profession. She has a dream, but can she make it a reality?
One day, she comes upon an injured dog and a mysterious man. While she helps the dog, the man disappears. Something about this whole serendipitous encounter feels purposeful. But what does it mean? Despite pleas for her to "get back to work" and not "talk crazy", she follows her instincts and intuition through a series of signs and synchronicities. She embarks on a path to a spiritual awakening, that takes her to the depths of despair, through dark moments, to discover her true purpose.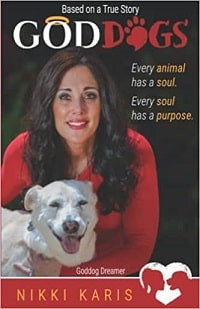 Review of Goddogs
Nikki Karis is a refreshing, honest voice. In this memoir, she bares all—her ups, downs, and frustrations as she can't "awaken" fast enough. We follow her on this journey of discovery, where she not only finds her voice, but her true purpose in life. And it's not one she'd previously considered. Through the beautiful creatures she rescues, she finds love, fulfillment, and a calling to something bigger. Since she feels like she's been through a baptism of sorts, spurred by these animals that become her "children", she calls them her Goddogs. This is a heartwarming story that will make you rethink many things and wonder if you have a higher calling. It's the first in a series, and I'm looking forward to more.
Learn more about Nikki Karis here
Buy it on Amazon
Maria A. Karamitsos is an Amazon affiliate. As an Amazon affiliate, she earns money from qualifying purchases. By clicking through the links, when you make a purchase, she will receive a small commission at no additional cost to you. It helps to support her writerly endeavors Thank you!
Stealing Freedom by Sylvia Leontaritis
September House Press (March 24, 2022)
Sylvia Leontaritis is also known as Orthodox Mom, an avid blogger about family, motherhood, life, and all its adventures, under the umbrella of her Orthodox Faith. She's also the author of Songs of Praise, A Psalter Devotional for Orthodox Women.
Kalymnos. 1935. Still under Italian rule, Greeks are considered "Italian-Greek". The Italian soldiers occupy the island, set rules and curfews, and intimidate residents. When word hits that another great war is imminent, 16-year-old Popi chooses freedom. Though she's a girl, she can't sit back and do nothing. She wants to be free. Wants her island to be free. She joins the Resistance and enlists a little help from her friends. Popi convinces them to listen for important news and teaches them Morse code to stitch the news into a doily. Who would suspect a bunch of young girls sewing? She'll then deliver the doilies to the Resistance, in hopes of thwarting the Italians' plans.
Fueled by her purpose, she makes a difference. Everything seems to be going fine, until she meets Emmanuel, who saves her from a brutal encounter with another soldier. She's grateful but falling in love was never part of the plan. When she gets caught, will it cost her everything?
Review of Stealing Freedom
Sylvia Leontaritis has written a heartwarming story, full of history, family, and love. I learned more about Kalymnos' history. This coming-of-age story reminds you of the pure ideals of youth, the fearlessness in the fight for what's right, and the feeling of immortality. I loved how the girls became part of the Resistance, especially at a time when girls were expected to just to sit home and do chores while their brothers went out to defend and save the world. Girls can do great things! This is a story of hope and courage you won't soon forget.
Learn more about Sylvia Leontaritis here
Buy it on Amazon
My Greek Books—May 2022 Edition
That's it for this month's My Greek Books! I'll be back next month to share more great reads. Happy Reading!
---
Read more:
My Greek Books–January 2022 Reads
My Greek Books–February 2022 Reads
---